The Guardian, April 8, 2019
Residents of the Ethiopian capital's historic Piassa neighbourhood have just had their homes bulldozed a second time
IRIN News, September 3, 2018
The floods came early this year in Tua Sin Chai, a remote village in Vietnam's northern highlands. In June, heavy rainfall unleashed landslides that tumbled through this hillside village, killing a family of four.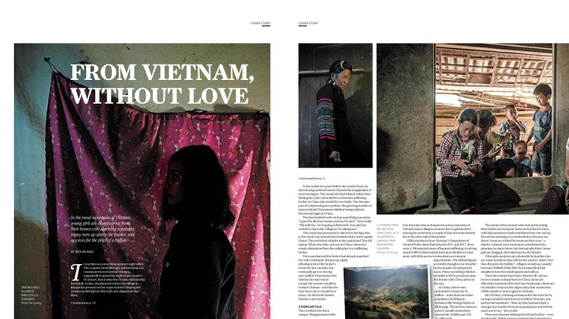 South China Morning Post, June 17, 2018
In the rural mountains of Vietnam, young girls are disappearing from their homes with increasing regularity. Many turn up across the border, sold as wives for the price of a buffalo
TRT World Magazine, April 26, 2018

Vietnam may be one of the fastest growing economies in the world. Yet some residents in Ho Chi Minh City are at the cusp of eviction as authorities draw plans to develop the land beneath their feet.
VnExpress Int., Nov. 19, 2017
Arabica could hold the key to escaping poverty for farmers in Vietnam's province Quang Tri, but is it a sustainable option?


VnExpress Int., Sept. 17, 2017
Sung Tieu explores the connection between constructed reality and deep-seated Vietnamese spirituality through her first solo exhibition "Remote Viewing" in Hanoi.


The Palestine Monitor, April 12, 2016
"They say Israel is a democracy. But what kind of democracy sends soldiers to people's homes at five in the morning, when the kids are still sleeping?"